Eco-friendly yacht gym design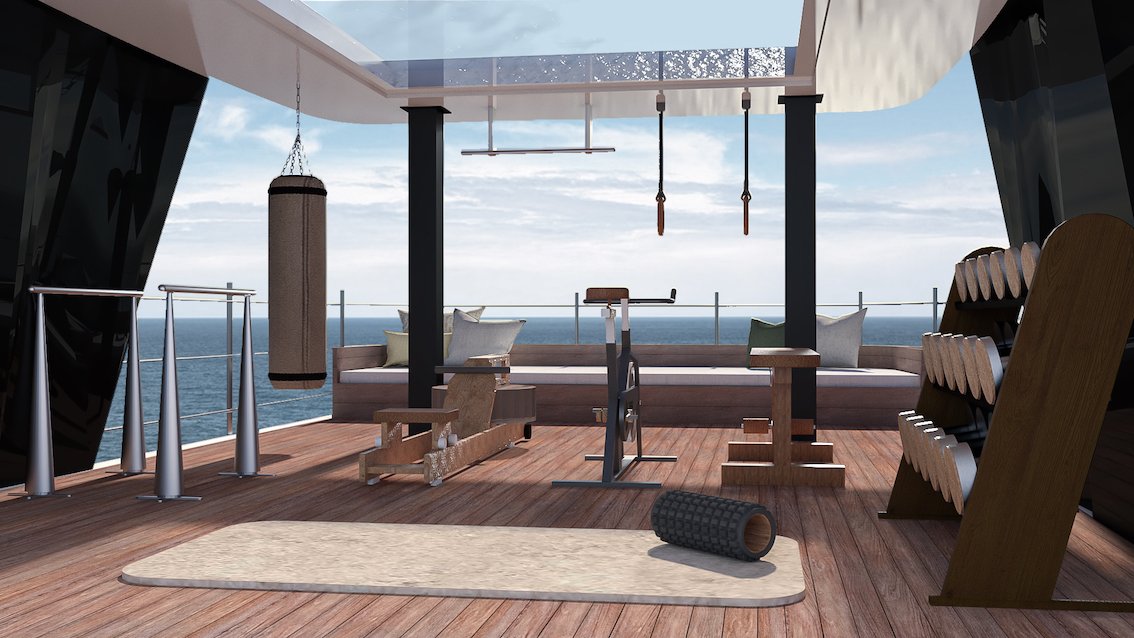 Our yacht gym design & eco-friendly gym equipment services
As part of our yacht interior consultancy we offer expertise in yacht gyms and yacht fitness areas, largely informed by Co-Founder Matt Morley's expertise designing eco-gyms for luxury hotels around the world under his Biofit brand name (2017-present).
Now BioBlu is applying that same 'green and healthy' design approach to yacht gyms and superyacht fitness rooms.
So what exactly goes into designing a superyacht gym or fitness space onboard a yacht? Read on to find out..
How much space is required for a superyacht gym design?
Before we look at the type of fitness training that will likely take place in the onboard yacht gym, we first need to identify the chosen location onboard. So how much space is required? There is no one fixed answer clearly but space is often at a premium on a yacht so even 8-10m2 s going to provide adequate floor space for the essentials.
To place that in perspective, a running machine is approximately 80-100cm wide by 200cm in length, and should not back up against a wall just in case the worst happens and the user loses their footing one day. What we do not want in that situation is for them to fall into a wall directly behind the treadmill.
Fitness training options in a yacht gym space
Next up is the type of training preferred by the yacht's owner and family. This links closely to the choice of preferably
eco-friendly yacht gym equipment
, as we will soon find out.
To clarify, a personalized selection of yacht gym equipment would typically incorporate elements of cardio machinery, space for stretching, yoga and mobility work as well as a strength component.
Cardio + Strength + Mobility zones combine with what is likely to be (at least some of the time) a tempting sea swim option just outside.
Cardio machines for a yacht gym
The 'Big Three' of cardio gym equipment in a yacht gym design for us are the treadmill, bike and rower but an owner might be looking for maximum bang for the buck in terms of calories burnt in which case an AirDyne bike that combines hand and leg movements might be more appropriate.
Those used to trail running on land may, like us, prefer a manual, curved treadmill with a softer underfoot feel that can be used for short sprints as well as longer endurance sessions.
Fitness enthusiasts might envisage using their yacht gym treadmill loaded up with a sandbag, ankle weight or hand weights as another way to extract more value from the same piece of equipment.
Manually powered yacht gym cardio equipment
More mature yacht gym owners might consider an elliptical machine as it is softer on the joints and offers a full body workout without the leg flexion and. extension required on a rowing machine.
Eco-friendly gym equipment suppliers such as SportsArt offer great solutions for this. One major caveat however is that these machines focus primarily on energy use rather than materials used in the production process.
For eco-friendly yacht gym equipment enthusiasts, we recommend bringing in wood-based pieces by a brand like WaterRower / Nohrd as they are all made with sustainably sourced material, require limited maintenance and are essentially manual-powered / electricity-free, which further simplifies things onboard.
A WaterRower wooden rowing machine for example can easily be stored vertically on-end when not in use, making it an ideal eco-friendly gym equipment option that is also ideally suited to tight spaces where every inch of floor space counts.
Strength training options for a yacht gym
Those used to isolation strength machines in the gym may also wish to include a multi-gym in the equipment list of their onboard yacht gym as this offers a range of resistance exercises from one machine. Note however that this type of training is less 'natural', more restricted but likely better for those unused to training with their own bodyweight or even with dumbbells.
A multi-gym in a yacht fitness space will consume close on 4m2 of floor space but even with a high-end option from Technogym still represents good value for money given the number of different exercises available.
We also supply yacht name or owner-branded stainless steel INOX dumbbells for a personal touch – these weights are pretty much indestructible. Another option is dumbbells with wooden elements incorporated into them, for an extra touch of eco-friendly yacht details.
To enquire about BioBlu's yacht gym design services and eco-friendly yacht gym equipment provision, please contact us here.
Matt Morley
February 2, 2021

BioBlu 2020