Benefits of biophilic design for green yachts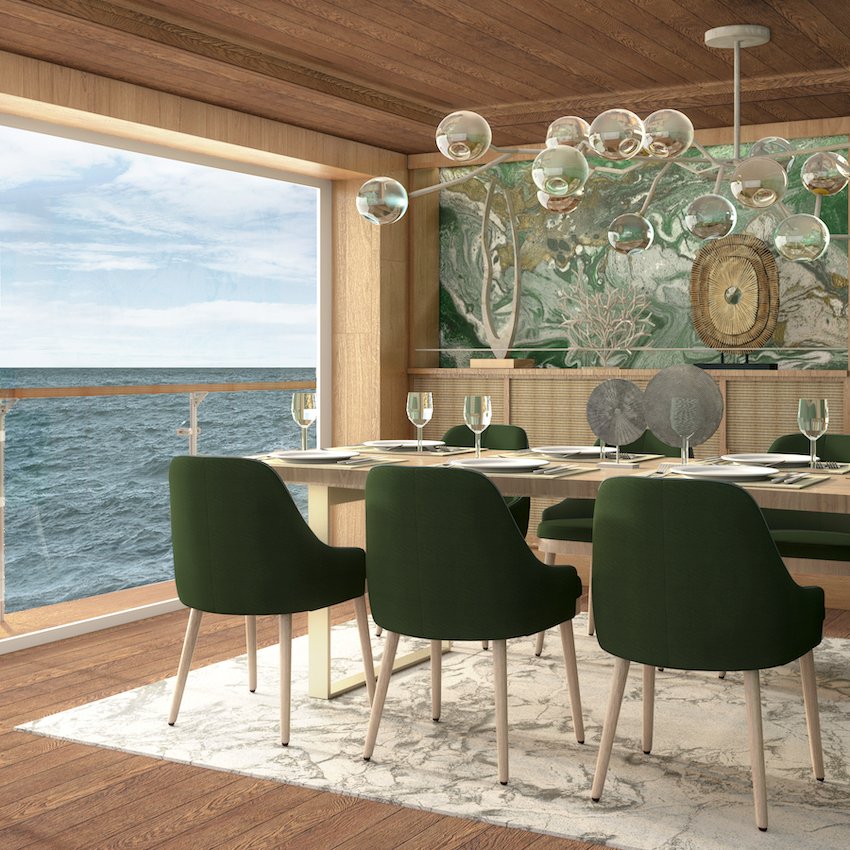 Why use biophilic design on a green yacht?
Wellness, nature & sustainability
Biophilic design combines elements of sustainability and wellness with inspiration from the natural world, making it, in our view, an ideal solution for green yacht interiors and a unique selling point for the next generation of sustainable yachts.
So why has it made so little impact in the industry thus far? Perhaps partly this is due to lack of awareness amongst specialist yacht interior designers, or simply that an owner has a preferred style that differs from this more organic aesthetic. Current eco yacht certifications also do not currently cover materials, focusing instead on a yacht's engine room carbon footprint.
The real opportunity here then is surely in leveraging biophilic design in the new generation of green yachts and, in future, being awarded by eco yacht certification systems for using the type of natural, sustainably sourced materials that are biophilic design's trademark.
Another benefit for a green yacht with biophilic interiors is the added wellness benefits for the user, thanks to the healthy interior design strategies that we offer via our yacht consultancy services.
By leveraging the latest insights into healthy interiors, we create indoor spaces optimized for owner wellbeing, from deeper sleep, to greater concentration in a work area, reduced anxiety and improved mood. To achieve this our multi-sensory yacht interior concepts incorporate texture, lighting, sound and a sense of place – in this case inspired by the sea!
Blue nature on green yachts
Bringing the outside world in through nature-inspired design strategies that create harmony between onboard living areas and the 'blue nature' surrounding the yacht is a unique feature of biophilic design applied to the world of yachting.
Common strategies of biophilic design we might use on a green yacht interior include the use of fractal patterns, organic non-GMO fabrics, what the Japanese call 'wabi-sabi' finishes, the patina of age and generally a focus on honest materials in a neutral colour palette designed to create a restorative environment that is at one with the natural world outside.
Other design details integrating blue nature might include the use of marine materials in furniture fit-outs, for example dried seaweed embedded in an all-natural mattress, sustainably sourced seashells in a tabletop or a coral–inspired artwork full of textural detail.
A green yacht needs sustainable interiors
Adopting an environmentally-friendly approach to yacht interiors requires extensive knowledge of materials and their life-cycle. Thus far we have seen less uptake from the industry of this theme with energies focusing on the engine room and how to user cleaner energy forms to take the yacht from A to B.
Clearly this is fundamental and there remains a lot of work to do in this sense to go beyond the current diesel-hybrid engine solution. So as we collectively start to look ahead to what comes next for the yacht industry, the opportunity is to widen our collective scope to include not just the yacht's engineering systems but also its interior fit-out and onboard operations.
Sustainability is a 360-degree picture, there is nowhere to hide. This can be daunting, even over-whelming for those without expertise in the field as the plethora of product and material certifications on offer, from Cradle to Cradle to the Declare Red List and beyond.
Our priority is to help guide a client to the right combination of form and function, keeping an eye firmly on the organic, natural, chemical-free, and recycled or upcycled materials.
To enquire about our green yacht interior consultancy services and biophilic design expertise, please contact us here to discuss your project. We are always open to collaboration!
Matt Morley
February 14, 2021

BioBlu 2020