Upcycled Ocean Plastic Products

From ocean clean-up to ocean plastic product
It is now accepted that the world's plastic problem can only be solved with a twin strategy of reducing the amount of plastic entering the system at one end, essentially by deploying innovative bio-based materials as an alternative to plastic, and a massive clean-up operation at the other end, the likes of which this planet has likely never see before.
The task, in other words, is truly immense and there is no time to lose. Estimates currently put the total amount of plastic being discharged into the ocean each year at around 12 tons. Only a small number of the world's economies have implement a ban on single use plastics so far, there remains a long, long way to go.
Below are some of the better examples of consumer brands deploying such fabrics in innovative ways, all of which we actively support and promote via our own yacht interior consultancy work.
Upcycling ocean plastic into fabrics
Innovative businesses such as the Seaqual Initiative in Spain play the fundamental role of collaborating between ocean clean-ups around the world and recycling industries to transform marine litter into upcycled marine plastic that can in turn be used by manufacturers to create sustainable fabrics, that are subsequently converted into consumer products.
It's a fairly complex production chain but for the purposes of this article, we are focusing on commercially available products made predominantly from ocean plastic.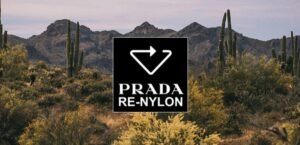 Luxury brands using upcycled ocean plastics
Tom Ford has released a watch called the 002 Ocean Plastic Watch that has a case, strap and packaging made entirely of ocean plastic. This launch is significant as it shows not just the aesthetic range of such materials (this model happens to be monotone black) but also the environmental commitment from one of the world's biggest names in luxury. It is, as much as anything, a statement of intent, representing but one part of a far wider collection.
Watch brands with nautical heritage such as Blancpain and Omega have long supported marine conservation initiatives and the promotion of environmental awareness, rare are the brands diving in head first with a mostly ocean plastic product though as this remains well short of a prestige material.
Since 2019 Prada have a collection of products using Re-Nylon – a partnership with Aquafil, an Italian textile yarn producer that produces ECONYL® a regenerated-nylon yarn that can be repeatedly recycled and is made of plastic from landfill and the oceans. Prada's aim is to convert all Prada virgin nylon into regenerated nylon by the end of 2021.

Sustainable yacht activewear
A product category that has a head start on luxury products is clothing for yoga, surfing, hiking and more where the focus is on functionality with a healthy dose of style but where there is perhaps less emphasis on prestige materials.
Perhaps the most ardent proponent of this approach is Patagonia, one of the industry's earliest adopters and a multi-national business that remains overtly committed to environmentalism. One of the ocean plastic-based materials they use is called Repreve 100 made entirely of plastic bottles.
We recommend yacht crew uniforms include a set of branded RashR vests and uniforms made from eco-friendly materials that now come with added VirusOff Polygiene technology to prevent the spread of viruses.
Eco-friendly pet products
Anglo-Italian sustainable pet product brand Project Blu has a circular and sustainable business model. By using 100% recycled materials, they help to transform ocean bound plastic and used clothes into novel products manufactured in Italy.
Their range includes collars, beds and toys for dogs and cats; once these products come to the end of their life cycle, Project Blu helps consumers to donate their products back to local animal shelters or advise on recycling. In a final gesture, they make a contribution from every sale to the Plastic Bank to support recycling infrastructure in the poorest regions of the world.
Eco-friendly luxury mattresses for sustainable yachts
Another product category to keep an eye on for the use of recycled ocean-plastics is high-end mattresses such as the Natura Spring collection. In this instance, a recycled Repreve performance fabric covers a layer of organic wool for their respective temperature regulating properties.
We expect to see many more such products coming to market over coming years and our interior consultancy services look to prioritise manufacturers supporting the ocean clean-up through the use of recycled ocean-plastic materials. To enquire about our interior consultancy services, contact us here.
Matt Morley
December 8, 2020

BioBlu 2020