Applying global standards to sustainable yachting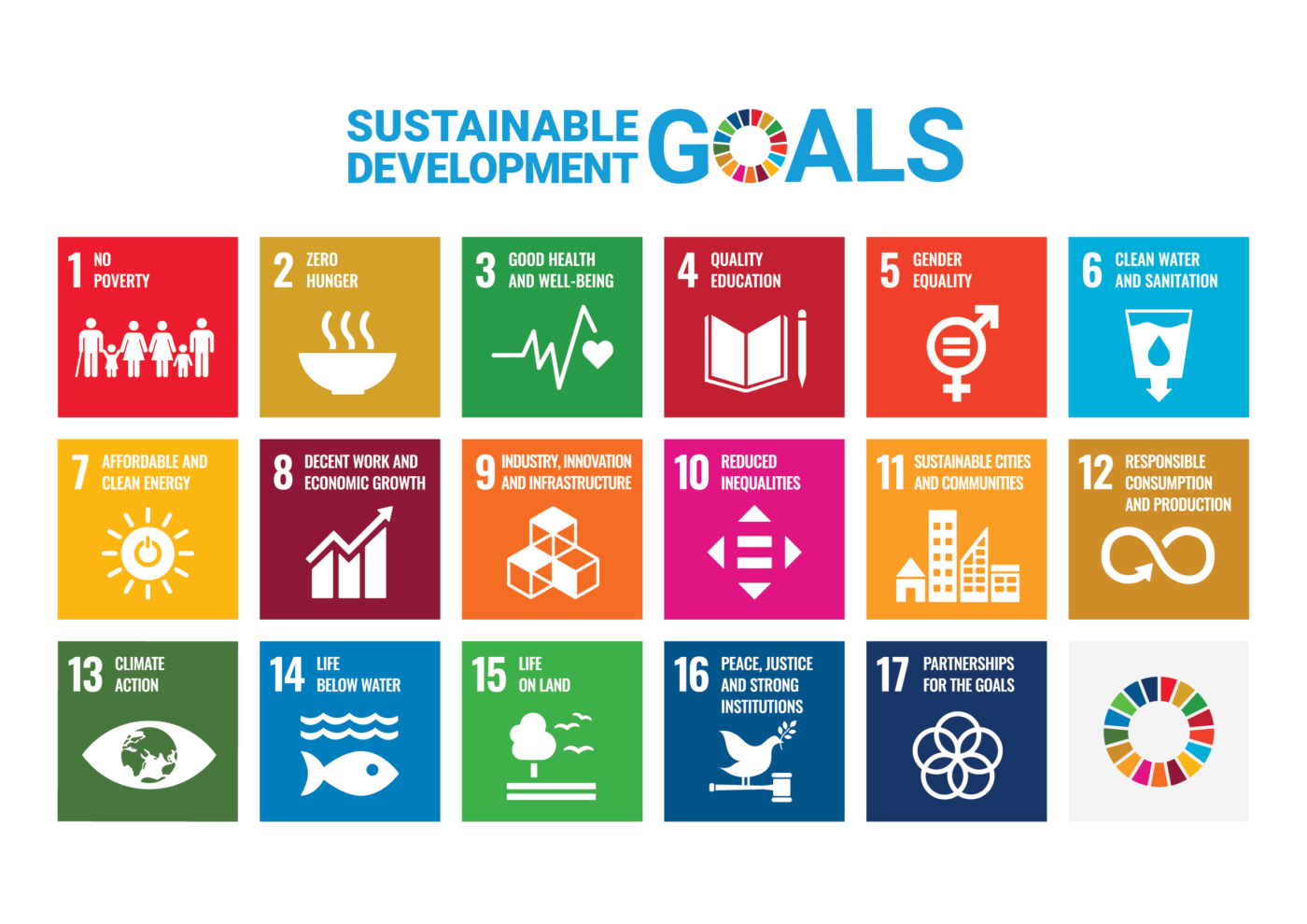 Towards a global standard for sustainable yachting?
BioBlu draws inspiration from the World Green Building Council Health & Wellbeing Framework, that is in turn grounded in the UN's 17 Sustainable Development Goals, of those 17 we have singled out the following as being of particular relevance for our concept of sustainable yachting:
Good Health & Wellbeing (Goal 3)

Affordable & Clean Energy (Goal 7)

Responsible Consumption & Production (Goal 12)

Climate Action (Goal 13)

Life Below Water (Goal 14) 
Applying these global sustainability standards to the yacht industry focuses attention first and foremost on a yacht's energy use, water efficiency and waste management but the story does not end there.
We advocate for an extended scope that also includes the role of sustainable materials in yacht construction and fit-out, opportunities for biophilia in a yacht's interiors (connection to nature) and enhanced onboard health and wellbeing features.
To learn more about our approach, click here to visit the relevant page of our site.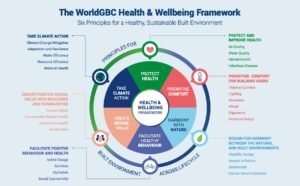 Sustainable yachting and the World GBC Health & Wellbeing Framework?
Neither a green building nor a healthy building certification as such but rather an umbrella framework for thinking about both sides of the coin, this welcome model of relevance for our concept of sustainable yachting strikes a conciliatory tone between a People and Planet focus, making it eminently practical, user-friendly and comfortably aligned with current industry trends.
So what exactly does it entail and how can it help guide the sustainable yachting industry forward?
Sustainability principle 1 / protect health: air quality, water quality, mental health and infectious disease
Indoor Air Quality: This features looks at air pollution and airborne diseases, specifically pollution from solid fuel combustion, gas appliances, pollutants such as VOCs present in fabrics and materials, and finally biological contaminants. All of which are potential hazards onboard a yacht, if due consideration has not been taken at the time of fit-out or construction.
Ambient Air Pollution: Issues such as the manufacture of construction materials contributing to black carbon emissions, the construction process itself, and more generally the operations of a yacht via heating, cooling and lighting, with their corresponding energy demands.
Water Quality: Testing for contaminants, regular cleaning schedule, Legionella management plan
Mental & Social Health: Biophilic design in interiors (nature connection), acoustic comfort, active space for exercise onboard
Reduce Transmission of Infectious Diseases: Integrate sensor activations, HVAC maintenance schedule, use of UV cleaning lamps, high touch surface disinfection plan
Sustainability principle 2 / prioritise comfort: thermal comfort, lighting, acoustics, visual, ergonomic and inclusive design
Thermal Comfort: suitable onboard ventilation, thermal massing, insulation and glazing
Natural and energy efficient lighting: Maximize natural light in a yacht whilst reducing glare, avoid using glossy finishes, specify light-coloured opaque shading systems
Acoustic comfort: Use of sound-absorbing interiors products, sound masking, vibration isolation devices
Multi-sensory comfort: Olfactory comfort (avoid unpleasant odours), ergonomic furniture and visual stimulation via aesthetics
Sustainability principle 3 / harmony between natural environments
Access to nature: biophilic design features, landscaping and plants (or representations of nature onboard a yacht if more practical), natural patterns and textures in interior design, opportunities for human interaction with nature onboard such as hydroponics / vertical herb gardens, aquariums, and so on
Occupant access to nature outside: rarely in short supply once in open water clearly! additionally, consideration for green infrastructure such as planting, green roofs or mini gardens
Sustainability principle 4 / healthy behavior
Active design: attractive stairwells, standing desks in onboard offices, dedicated fitness spaces and/or gym equipment onboard as well as water sports equipment
Hydration, nutrition and social connectivity: purified water (combined with reusable recycled ocean plastic water bottles please!), healthy food options onboard
Sustainability principle 5 / social value
Protect human rights related to health: Social and demographic equity within yacht build or refit project, inclusion of human rights and labour provisions in supplier tendering by shipyard / yacht brand, Human Rights Impact Assessment and Supply Chain Mapping
Health of yacht construction workers: Responsible yacht construction practices, protection of shipyard worker rights, health & safety measures, educational programs
Improve local quality of life: shipyards and yacht builders to engage with the local community early on, reduce impact of shipyard on local community wherever possible, implement organizational strategies to help support local economy
Sustainability principle 6 / take climate action
Commit to net zero emissions: Improve lifecycle energy efficiency / reduce refit yard, shipyard and indeed yacht energy demand, aiming for net zero operational carbon emissions in all new buildings within the yacht brands portfolio by 2030, and net zero embodied carbon in all new buildings owned by a yacht brand by 2050, measure and disclose carbon, generate power from renewables where possible and off-set the rest, opt for low Global Warming Potential (GWP) refrigerants in all buildings owned by the yacht brand in question
Design for Resilience: Plan for resilient systems, carry out environmental assessments, use vernacular natural ventilation strategies where possible, specify products and materials that will not off-gas in the event of a natural disaster, design for reduced dependence on complex building controls and systems for when the worst happens
Adapting global sustainability standards for yachting sector
The key insight here is that we cannot look at a yacht's environmental impact alone, we need to expand our interpretation of sustainable yachting to include the buildings and supply chains that go into a yacht build or yacht refit. Focusing purely on the sustainability performance of a yacht once she is in the water is to miss the bigger picture here.
We therefore encourage the yacht industry as a whole to engage with the theme of sustainable yachting at a corporate level, rather than relying purely on owners to start taking responsibility by themselves.  Nor is this a binary decision, only through collective action from above and below, can we bring about fundamental, meaningful change within the sector.
BioBlu was formed to assist in, promote and, we hope, speed up this transition within yachting towards a more sustainable future at both the corporate and product level, collaborating with yacht brands (the 'above') and individual yacht owners (the 'below') in order to make incremental improvements over the all-important 5-10 years to come.
https://worldgbc.org/health-framework
Contact us here to discuss your sustainable yachting project enquiry
Matt Morley
March 22, 2021

BioBlu 2020